We've all heard the stat — more shopping searches now start on sites like Amazon or TikTok than on traditional search engines. While the truth is a bit more nuanced, one thing is crystal clear — the realm of online search and discovery is no longer dominated by a single player (Google, we're looking at you).
This is good news for platforms (besides Google), but what does it really mean for brands? The short answer is more opportunity, but also more complexity. As digital channels multiply and the customer journey expands across those channels, brands must now navigate an intricate ecosystem of the many places where shoppers are searching for them.
There is no longer a singular, common starting point on consumers' discovery journeys, and in order to meet consumers everywhere they are, brands must adapt to the changing dynamics of search and discovery by:
Understanding which platforms consumers are turning to in different circumstances;
Adapting their marketing strategies to account for the behaviors of their target consumer; and
Preparing themselves for the continued evolution of discovery, which will increasingly incorporate new elements like images, voice and even virtual reality.
Who's Searching for What, Where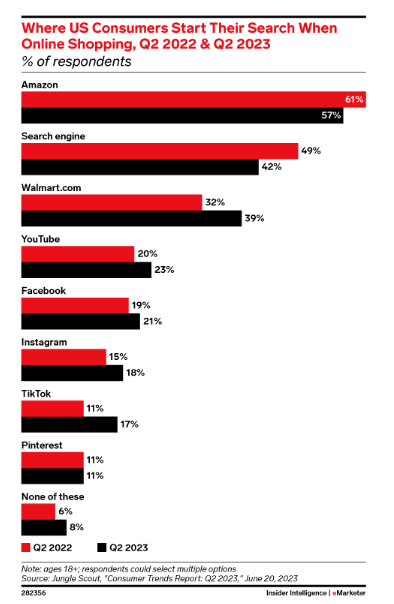 There's no denying that Amazon has become the starting point for many consumers — a Jungle Scout poll from Q2 2023 found that when asked generally about where they start shopping online, Amazon is the clear winner among U.S. consumers, with 57% starting there. (Interestingly, despite the recent chatter around TikTok, that platform is still well behind search engines and even other shopping and social sites like Walmart, Facebook and YouTube as a starting point for shopping searches.)
But the results differ dramatically when you start to dig into factors like consumers' intent, country and age, according to Bradley Hearn, Senior Product Marketing Manager at ChannelAdvisor. When a consumer's intention is to buy a product, Amazon is the clear leader, said Hearn. According to series of consumer studies the company has conducted since the pandemic, 46% of consumers in the U.S., UK, France and Germany start the process on Amazon if they're intending to buy, and in the U.S. alone it's around 51%. But when asked about where they start when researching products, the results are less straightforward. In some parts of the world it's still Amazon, but in other countries like Australia consumers are more inclined to turn to search engines and other marketplaces like Ebay.
Hear more from Hearn on this topic during the Retail Strategy and Planning webinar series next week. Register here for free.
Abhinav Chandra, Managing Director in Alvarez & Marsal's Consumer and Retail Group, also thinks it's important to distinguish between different kinds of search behaviors in order to really understand how consumers are finding products today: "Discovery has two components to it," he said in an interview with Retail TouchPoints. "One is search, which is 'I know what I want, and I type it into a search engine.' The second part is more browsing, which is different from search. The intent is there, but I don't know exactly what I want. Those are two very different things. On the search side, things have stayed pretty constant; most of those people end up on Amazon as a starting point. It's discovery where things are evolving pretty rapidly, especial in the social media space."
Additionally, the place that consumers choose as their online starting point also depends a lot on the category they're shopping: "On the TikTok side you can see, if you look at their business development strategy, that they're focused mainly on FMCG, so beauty products, grocery items, health and wellness," said Sharon Gai, keynote speaker and author of Ecommerce Reimagined. "But for more niche categories, say if there's a certain part you need with a specific SKU number, those searches are still beginning in a more traditional setting like Google or Amazon."
A Simple Game of Follow the Consumer
So what's a brand to do given all this nuance in search and discovery? The simple answer is "follow where your consumer is taking you," said Chandra. "For example, if you sell a product that is more needs-based than wants-based, like grocery items, most of the time it's less about discovery and more about search-and-buy, so having a presence on Amazon is important. It doesn't mean you shouldn't focus on other channels, but most people aren't looking for dishwasher soap on TikTok.
"Then you get into a more wants-based product category like fashion. If you are a mid-market brand, you might still want a presence on Amazon; Amazon sells a lot of fashion. But from a discovery perspective, you should also be thinking about social. Brands that are on the higher end of the spectrum and more aspirational should definitely be spending more on social."
For the latter group of brands, Gai does have one note of caution about moving heavily into video-rich environments like TikTok: "[TikTok's] ad product is very different than Amazon or even Google, where you're more focused on perfecting your search terms," she said. "TikTok is very content heavy, so the content you create should be dependent on who you're targeting, which adds a new layer for some advertisers."
More Channels = More Information
While the online customer journey has become complex to the point that it can almost be overwhelming, there are some benefits to this proliferation of channels. Advertisers and sellers on Amazon, Meta platforms and TikTok have access to a wealth of previously unavailable insights into how their product listings and ad campaigns are performing.
For example, at the recent Amazon Accelerate conference, Avinash Ravi, Director for Selling Partner Recruitment and Success at Amazon, highlighted new tools that help Amazon sellers identify the best-performing search terms for their advertising. Sellers can now see stats like search volume for keywords across all of Amazon and get recommendations about which keywords will help with conversions, seasonal selling and other scenarios.
And while these insights are surfaced for sellers with the aim of enhancing their Amazon advertising, there's nothing to stop brands from using those same insights in their broader advertising strategy across other channels like Google or Meta.
"[All these new channels] have also opened the doors to who brands can target," noted Gai. "When they're designing digital strategies, brands often start from a very 'closed box' mindset of, 'I think this is my consumer — they're X age, they're this sex, they're this profession, etc.' It can be a very static view of the customer. Yes, that might be your classic customer, but there might be another type of consumer out there that needs your product that you haven't discovered yet. By going into these different platforms with different user bases, it has opened the doors for brands to reach a type of consumer that they hadn't before."
However, access to all this new data and insight can be a double-edged sword, said Chandra. "Yes, you now have better information on consumer behavior — what consumers are liking, what consumers don't like — but I will tell you that I have yet to meet a brand or seller that utilizes more than 10% of it," he said. "There are a lot of reasons for that. One is that most brands get caught up in their sales numbers and profit dollars, but a lot of the data generated [on these platforms] is more about customer experience and changes you can make that will impact you 12 months or two years down the line. The biggest problem, though, is that data does not mean information. Data is data, you have to analyze it, and there is so much data that people get lost in analysis paralysis."
Chandra sees an opportunity for AI to help with the latter problem, aiding brands by sifting through the vast amounts of data they now have access to and surfacing possible actions. He also advised brands not to get too caught up in what competitors are doing and industry benchmarks, but rather to take the long view with both their data analysis and brand strategy. "Many executives are caught up in what I see (others might disagree with me) as the vicious cycle of year-over-year comparisons," he said. "When you are thinking about the customer holistically, you have to take a longer view, and most companies just are not structured that way."
The Future of Search: Images, Voice and VR?
Taking a very long view on the evolution of search itself, Chandra said that he foresees a future where typed words will play a much smaller role in consumers' search behavior than they do today. "With the advent of things like ChatGPT and generative AI, virtual assistants are going to get smarter and more human-like, conversational," he predicted. "My view is that eventually no one is going to sit and type anything on either Amazon or Google because they're just going to talk to voice assistants. Compared to scrolling around and typing, conversation is just much easier. Now, is it going to go there next year? No. Is it going to get there in the next five, 10 years? For sure."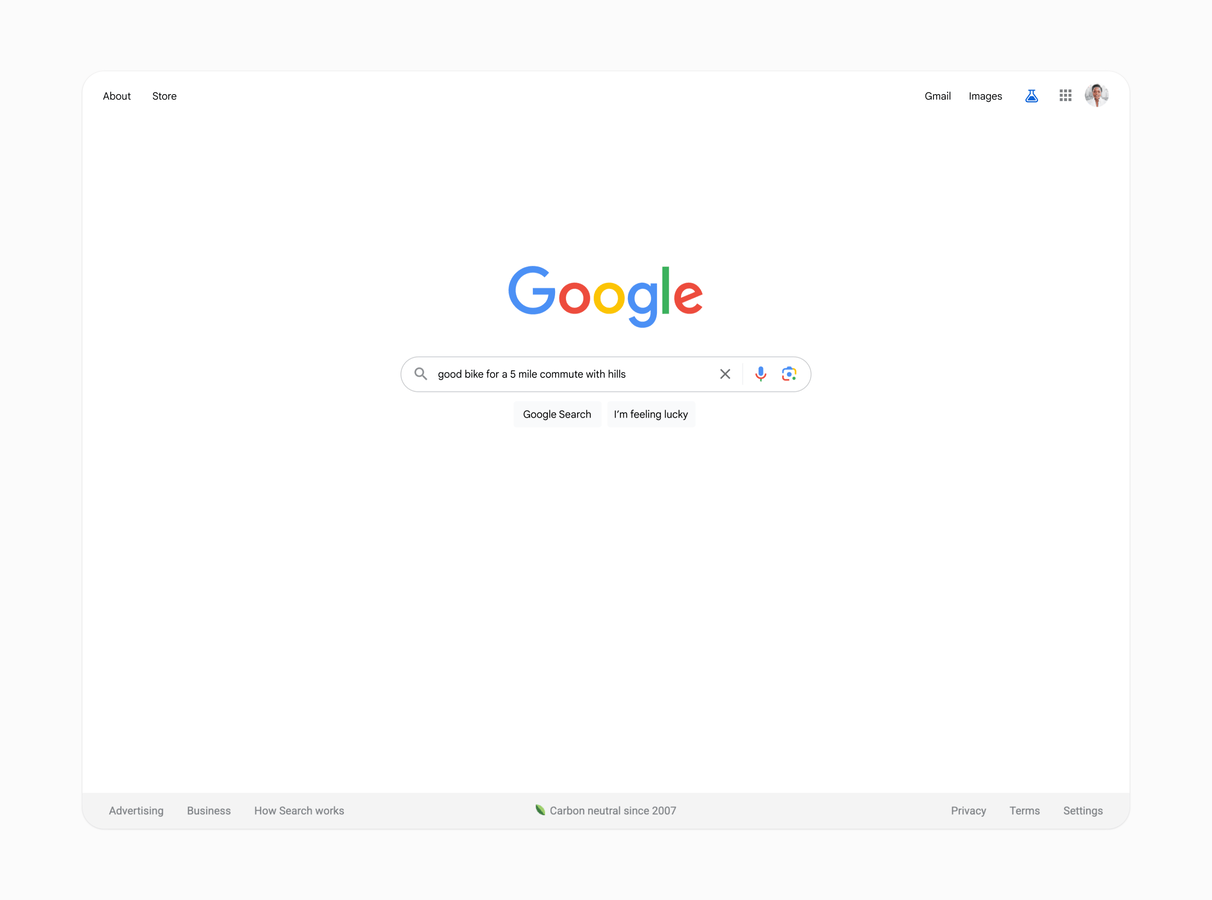 It's already beginning with things like Google's new generative AI search function — which turns search into more of a conversation, albeit still primarily through text — and similar products from other players in the space.
"With the advent of virtual reality and augmented reality there are also going to be opportunities even more rich than just conversational discovery," added Chandra. "The interplay between virtual and the real world in terms of discovery is going to continue to evolve and become more and more important. My point being that, right now we sit on our phones and discover products, but over a period of time it is going to be more conversational and eventually even move into augmented reality."