As it marks its 28th year in business, Ebay finds itself in a vastly different world than the one where it started. Back in 1995, "online marketplaces" weren't a thing, Amazon was still just a bookseller, Google didn't even exist and the idea of buying most things secondhand was considered tacky rather than trendy.
Taken in that light, the creation of Ebay can feel almost prescient, especially when you consider that the platform is now one of the oldest businesses in not one but two of ecommerce's biggest movements — marketplaces and resale. But competition in both arenas also has increased exponentially, and when it comes to technological innovation and general user experience, there's no denying that Ebay has fallen a bit behind some of its competitors.
In 2020, the company brought in former Walmart Ecommerce COO Jamie Iannone as CEO, and Iannone promptly set out to reimagine Ebay's role in the now crowded marketplace ecosystem. Over the last three years the company has consciously and methodically begun carving out a niche for itself that Iannone succinctly summarized at the platform's recent seller event, Ebay Open: "Our goal is to reinvent the future of ecommerce for enthusiasts," he said.
Ebay has always been first and foremost a resale platform — even today, 77% of Ebay sellers report having sold at least some pre-owned goods on the site, according to the company's most recent Small Business Report. It's also a peer-to-peer platform with a much lower barrier to entry than marketplaces like Amazon's and Walmart's — anyone with something to sell can create a listing and become a seller. This means that many of Ebay's sellers are also Ebay shoppers, and they are often much more personally and emotionally tied to the products they are selling than their counterparts on Amazon or Walmart.
The details of what these differences mean were on display at Ebay Open: "[Ebay Open] gets to the heart of how we position ourselves slightly differently, which is the partnership with our sellers," said Adam Ireland, VP and General Manager of Ebay U.S. and one of the hosts at this year's Ebay Open, which welcomed approximately 30,000 virtual viewers. "We're not competing with our sellers [referring to the fact that Ebay has no first-party retail business] and there are unique inventory types and seller types that flourish on Ebay relative to some of the other large marketplaces out there," Ireland said in an interview with Retail TouchPoints. "We're getting back to our roots and recognizing that with things like the auction model and a customer base that is looking for unique sources of value — resale being a huge part of that — people are looking at things not just as a transaction but as a way to fuel their passions."
At the seller event, Jordan Sweetnam, SVP and General Manager of Ebay Global Markets, described the effort underway at the company as a "multi-year journey to transform Ebay." That effort includes:
Rather than going head-to-head with the likes of Amazon and Walmart in the competition for marketplace sellers, Ebay is focusing on the passionate, smaller sellers that have always thrived on its platform;
In the same vein, Ebay has zeroed in on "enthusiasts" as its target consumer, which can include anyone from collectors and hobbyists to category experts and value seekers;
An ongoing slate of new services and experiences designed to build trust with these enthusiast customers; and
Nurturing and growing the community that naturally forms between Ebay's passionate buyers and sellers.
What's Old is New Again
Marketplace sellers are a hot commodity these days, and Ebay is far from the only one trying to convince these merchants that theirs is the best platform to sell on. Walmart and Amazon held their own seller conferences in the weeks prior to Ebay Open, and the themes of building together, partnership, and in particular the phrase, "We only win if you win," was recurrent at all three events. But the sellers Ebay is going after are slightly different, and the difference is encompassed in that word "enthusiast."
"We do have a number of large, more retail-focused [sellers] as partners on the marketplace, but the heart of what we do is resale," said Ireland. "The absolute magic of Ebay is we have people with these passions that they're able to turn into businesses. You talk to the sellers who, for example, have always collected comic books and just love comic books, and [through Ebay] are able to create an economic opportunity around that."
And those are the kinds of sellers that Ebay wants more of, although it certainly won't bar other kinds: "We're a totally open platform, and there are lots of sellers with that new, in-box inventory, but where we truly see a competitive advantage is not necessarily trying to go head-to-head with [the likes of Amazon or Walmart]," said Ireland.
Enthusiast Sellers Bring in Enthusiast Buyers
This focus on passionate smaller sellers ties in directly to Iannone's target shopper: the Enthusiasts.
"When we talk about enthusiasts, we mean the most passionate Ebay buyers," said Iannone at Ebay Open. "These are the most valuable repeat customers on the platform. They're the ones continually looking for that next must-have watch or handbag or pair of sneakers. And with this group especially, one purchase leads to another and then another and then another. These are also the buyers who spend the most money. In fact, we've seen that this group spends 9X more than the non-enthusiast buyer across all categories. And once they buy something, they shop an average of nine other categories."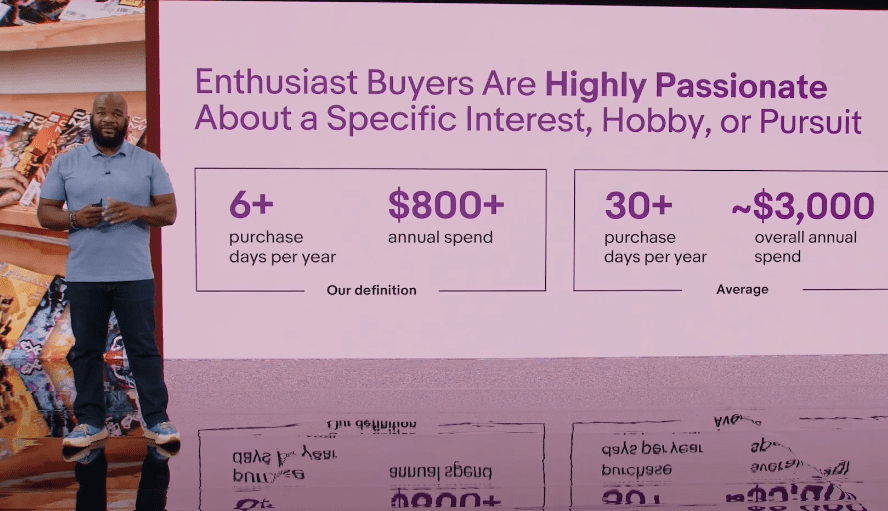 That, in a nutshell, is the business case behind the "enthusiast" focus. In Q2 of this year, of the 132 million buyers on Ebay, 16 million qualified as enthusiasts (defined as someone with at least six purchases a year and annual spend of $800 or higher). But those 16 million shoppers, which equate to just 12% of the Ebay shopper base, contributed approximately 70% of Ebay's total GMV for the quarter, according to Stefanie Jay, Ebay's Chief Business and Strategy Officer.
Not only do they shop more often and spend more, but Ebay enthusiasts have the added benefit of being incredibly loyal, according to Thomas Walker, VP of Global Consumer Insights at Ebay: "We know enthusiasts stick around when they find [a platform] that delivers against their needs," he shared at Ebay Open. "This demonstrates just how important they are to driving long-term sustainable growth."
Services and Experiences Designed for Enthusiasts
The first step in drawing these buyers in and keeping them coming back is building trust in the buying experience. Ebay has had some work to do in that regard, and it's not ashamed to admit it — the first Rolex to come through Ebay's new Authenticity Guarantee service for high-end items arrived wrapped up in a baby diaper, Sweetnam shared.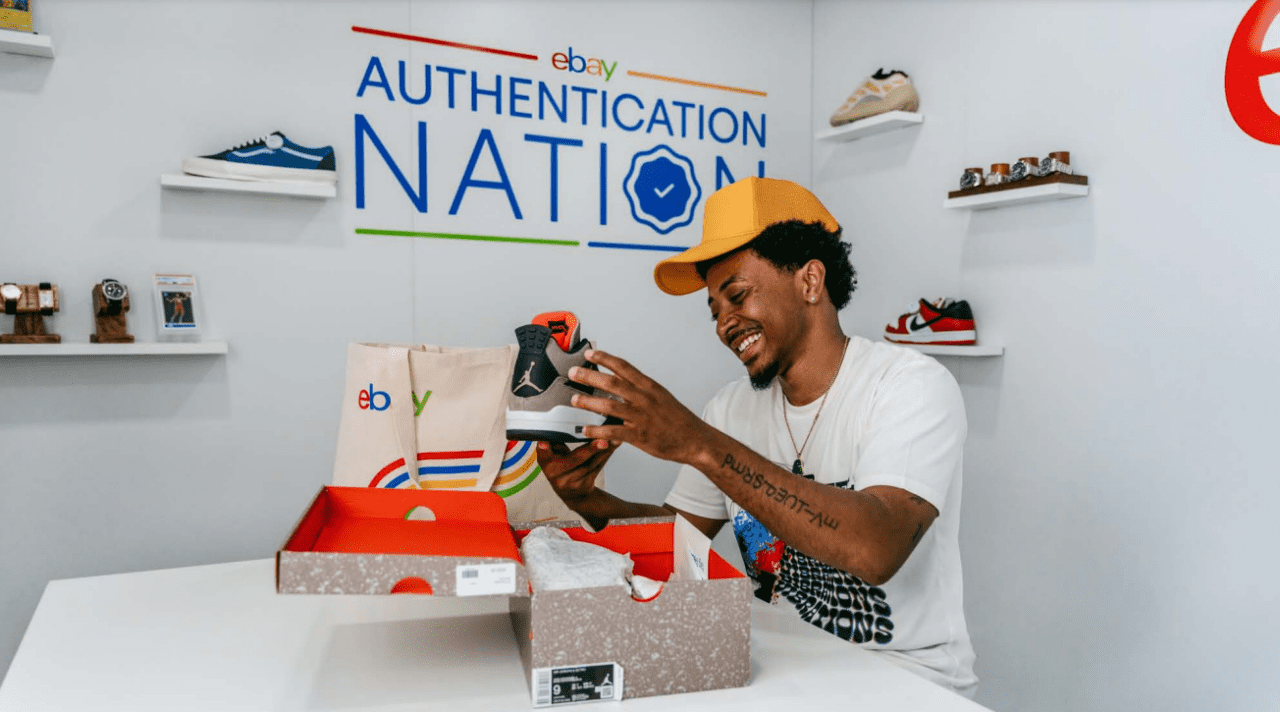 "As a seller myself, I've been known to recycle packing materials and use whatever's handy around the house, but imagine yourself in that buyer's shoes," said Sweetnam. "Sure the Rolex was authentic, but what does it say about the Ebay buying experience if an item you paid thousands of dollars for arrives at your door in a diaper? Since launching Authenticity Guarantee, we've solved the biggest pain point for buyers and added more protections for sellers and transformed the entire experience."
Additional solutions designed to solve similar trust issues in other categories have included the Guaranteed Fit tool for automotive parts and accessories, and the launch and subsequent expansion of the Ebay Vault for trading cards. To date, the company has authenticated more than 7 million items globally, and at a recent consumer trade show Ebay took in $25 million worth of trading cards through in-person submissions in just one weekend. "This speaks to the opportunities and untapped demand that we can unlock when we get deeper into building services and experiences for a specific category like collectibles," said Sweetnam.
More than 90% of those 16 million Ebay enthusiasts shop in the company's "focus" categories, which are the initial categories that Ebay has singled out for technological advancement and experience improvements. These include automotive parts and accessories, handbags, sneakers, watches and trading cards.
And it appears to be working: "In every category where we've invested in transforming the Ebay experience with our 'focus category playbook,' we're changing the trajectory of the business for the better and building a fundamentally different Ebay experience," said Sweetnam at Ebay Open. "It starts with trust and a relentless focus on customer satisfaction, [because] when buyers are happy, they buy more. And they tell their friends, which brings even more buyers. That flywheel effect drives the entire Ebay ecosystem."
So far this category-by-category approach has covered a little over 25% of the products sold on Ebay, leaving plenty of room for continued improvement and expansion.
Building on Ebay's Unique Community and Scale
Ireland is frank about the fact that Ebay faces a lot of competition these days, particularly in the realm of recommerce. But he believes Ebay has two advantages that help it stand apart — community and scale. "If you're somebody who loves buying handbags, you have options out there," he said. "There are a lot of startups that are focused on recommerce, and that raises the bar for us, but where Ebay can really start to win is we have the scale. Those startups do not have 132 million buyers worldwide. And we've been expanding our Ebay international shipping program, which has really opened up the world to our Ebay sellers by making those international transactions as simple as a domestic ones."
Making international sales easier matters to Ebay. Not only was the first-ever sale on Ebay (that infamous broken laser pointer) an international transaction, but cross-border sales accounted for approximately 20% of Ebay's GMV in 2022.
Last year Ebay also did research to understand the most important attributes of its platform for buyers, which ended up boiling down to three things: trust, selection and community. That final piece is something that Ebay is working to nurture. The platform is making it easier for sellers and buyers to get to know each other through functions like the new Seller Info box, a modernized messaging experience so that sellers and buyers can communicate more easily, and more in-person meetups.
"Part of what makes Ebay special is being able to connect with sellers that have similar passions," said Ireland. "You're not just buying from a random store or seller, you're most likely buying from someone else that is massively passionate about that category. There's something unique about that that we're looking to tap into and make sure we're able to build on."
Hopes for a 'Magical' Future
Looking ahead, Ebay isn't slowing down. The company has plans for a whole slate of new services and experience enhancements, among them a new homepage design that Iannone said will "completely modernize the look and feel." The company also has begun rolling out what it calls "magical" experiences, like its new AI-powered listing tool, which helps with the process of creating product listings and eventually will help sellers autofill product details based on a product image.
Other marketplaces are working on simplifying the listing process as well, but at Ebay such tools have the potential for an outsized impact. The barrier to entry to become an Ebay seller is already low, and if that process becomes as simple as uploading a picture (right now it's still rather tedious to settle on the right title, description and series of pictures), imagine how many more people might consider selling on Ebay. Tools like this have the potential to exponentially increase Ebay's pool of sellers, and "that's one of the reasons we're all so excited about it," said Ireland.
Iannone perhaps summed up everything in the works at Ebay best when he said: "I love the word 'magical' because it sets a new bar for how we're creating customer experiences across the platform. We want you to feel like every experience you have on Ebay is magical." Whether Ebay can get its sellers and buyers to begin using the same word to describe their experience on the platform, however, remains to be seen.